These pages are excerpts from a new book on Kabbalah, by Robert Zucker, with instructions to create a Kabbalah Wheel. Read more pages and download a free PDF sample of "Kabbalah's Secret Circles."
---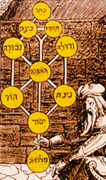 The Qabalah (Kabbalah) is one of the oldest, continuously studied and practiced philosophies in civilization.
The Qabalah is the basis of almost all western mystical teachings.
Kabbalah is the unwritten and written tradition of Judaic mysticism. For thousands of years, Jewish rabbis and their disciples developed and practiced this mystical and magical view of the universe.
The word 'Qabalah' comes from the Hebrew word that means "tradition."
The Hebrew letters Q, B and L spell Qa Ba Lah. The most common way to write the word in English today is: Kabbalah.
I often spell it as Qabalah to retain the more ancient influence. The word Kabbalah is also spelled several other ways, such as Kabalah, Kaballah, Cabala, etc.
The study of Kabbalah is based on virtual ideas, images and relationships from collective experiences in the real and spiritual worlds.
Start with the basics
Author Robert E. Zucker
Robert Zucker is an author, publisher and former college instructor in journalism.
Some Kabbalah groups only focus on the religious aspects of the Tree of Life. Other Kabbalistic groups practice with mystic meditations, magical techniques and chants.
Either way, they depend on the original Jewish study of the Qabalah to achieve their goals. Both theoretical and practical magic uses the Qabalah as its source.
There is no one book on Kabbalah. Since the Kabbalah was mostly transmitted by word of mouth, there were various interpretations between groups of Kabbalists.
Over the past 2,000 years, several handwritten Kabbalistic manuscripts began circulating. Eventually, they were printed and became available to the masses.
The "Sefer Yetzirah," The Bahir, The Zohar and "Sefer Raziel HaMalach" are some of the most popular handbooks of Kabbalah that exist today. The are freely available in bookstores, online and libraries.
Kabbalah Software programs: VirtualQBL, an interactive way to study Sefer Yetzirah, the 231 Gates forward and back, and the 22 Hebrew letters.
.
How to learn the Kabbalah
---
There are so many ways to study the Kabbalah.
If you want to study Kabbalah, but don't know here to start, or if you already have a good understanding and want to reaffirm your knowledge, explore these pages from my experiences.
Much of this material was first developed decades ago while take college credits for independent study. Instead of publishing it in a book, I am posting it online for others to learn.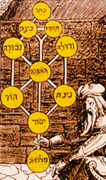 With the Internet, aspiring Kabbalists now have online access to knowledge once unavailable to the general public.
Those ancient, magical manuscripts are now freely available.
Web sites, forums and networking make it possible to learn about the Kabbalah online from others around the world.
While people have studied the Kabbalah for centuries, the Kabbalah itself has changed.
In today's society, the more popular American Kabbalah is in English, not the original Hebrew. The principles are relative to a different culture and time. Many of the mystical meanings are converted, convoluted or lost.
The Study of Kabbalah: Develop your own Qabalistic path
Much of the truth of the Kabbalah has been preserved over the centuries. Yet, the true meanings are disguised in ancient rhymes and puzzles. Some of that "truth" is also still debatable (see the study on the golem, for example).
But, there are those who learned, or figured out, the meanings to those unintelligible words, phrases and symbols. That was done through an intense study of Kabbalah in theory and practice.
There is no one single school of Kabbalah. There are many different aspects of the Jewish study of Kabbalah.
Not all the answers are posted online or printed in a book either. Anyone with the right intensions, and some of the keys to the true understanding, will be able to figure out those missing elements.
The Practice of Kabbalah: Explore the paths, but mark your own
Of course, it takes a lot of studying Qabalah and the Tree of Life to become proficient.
Beyond the study the magical symbols and the deeper, esoteric meanings described by major Qabalists, you must explore on your own.
What you gain will be different from others. But there will be similarities. Famous authors like Gershom Scholem, Aryeh Kaplan, Israel Regardie, Aleister Crowley and Francis Bardon describe their own visions of the Kabbalah message. All of their writings are based on similar principles. They tend to agree while they disagree.
We are fortunate at our time in history to have access to some of the greatest collection of ancient manuscripts still in existence. At no other time has so much knowledge been available in print and distributed to the masses. Much of this information had been guarded in secret for centuries.
Now, anyone can find it in most used bookstores and online. Some books are even free.
One of the best overall books that describe the foundations of Kabbalah is On the Kabbalah and its Symbolism
by Gershom Scholem. Any book by Scholem deserves a deep reading. Another excellent book by Scholem is On the Kabbalah and its Symbolism (Mysticism & Kabbalah)
Author: Gershom Scholem.
This section of my web site (EMOL.org) is dedicated to the true study of Kabalah and the search for a truer understanding. New pages are added often to expand topics and content, so keep checking back to the index on this home page.
My Top Choice Kabbalah & Occult Books & DVDs
---
These are links to some of the best, and most authoritative, books on Kabbalah from amazon.com. Throughout this Kabbalah section, on related pages find selections of highly recommended Kabbalistic books from Amazon.com and other top book sellers online.
On the Kabbalah and its Symbolism
Author: Gershom Scholem
Amazon.com: Gershom Scholem, who died in 1982, remains the biggest gun in kabbalah scholarship, and On the Kabbalah and its Symbolism is perhaps his most accessible book on the subject. It contains definitive essays on the relation of the Torah to Jewish mysticism, the mythology of the kabbalah, and the place of Jewish mystics in the Jewish community. This book helped reinvigorate 20th-century Jewish studies with an awareness of the living reality of God, after the 19th century's more astringent scholarly emphasis on law and philosophy. --Michael Joseph Gross. Paperback: 240 pages. Publisher: Schocken; New Ed edition (January 30, 1996).
"Sefer Yetzirah: The Book of Creation
in Theory and Practice" By Aryeh Kaplan
This is the most authoritative text on the study of the "Sefer Yetzirah" or Book of Formantion (Book of Creation) available. Kaplan's explanations are easy to understand and make sense. A must have manual for anyone ready to decifer this ancient manuscript. Paperback: 398 pages Publisher: Weiser Books; Rev Sub edition (May 1997).
Decoding the Past: Secrets of Kabbalah
(History Channel) DVD
An ancient inspirational form of Jewish mysticism Kabbalah has now reached cult-like popularity among celebrities and throughout America. But what is behind the new-found fascination with this sacred body of wisdom?Once exclusively reserved for study by ultra-religious male scholars of Judaism Kabbalah has recently become known as a multi-million dollar celebrity-endorsed phenomenon. SECRETS OF KABBALAH strips away the hype and demystifies the writings that have been studied by Jewish scholars for thousands of years. Running Time: 50 Mins. DVD Release February 27, 2007.
Lucid Dreaming: A Concise Guide to Awakening in Your Dreams and in Your Life
Author: Stephen LabergeBook Description:. What if right now, reading these words, you suddenly realized that you were actually dreaming – and that in this domain you could do anything imaginable? That is what it's like to dream lucidly, teaches Stephen LaBerge. In this new book/CD, he teaches his simple, proven methods for becoming fully conscious in the dream state.. with expert instruction gleaned from LaBerge's 20 years of pioneer in research at Stanford University, now anyone can learn to consciously explore and use their dreams for self-discovery, creativity, fantasy fulfillment, emotional healing, and profound spiritual insights. CD includes two complete guided dream induction sessions.
Los libros de Kabbalah en español por Carlos De Léon
La perla escondida (Spanish Edition)
por Carlos De Leon (Author). Las formas de meditación kabbalística, las enseñanzas de Jesús a la luz de la Kabbalah, Kabbalah y otras tradiciones espirituales, elementos originales de la Kabbalah judeo-cristiana. Paperback: 158 pages. Publisher: Pax-Mexico Mexico (June 30, 2006). Language: Spanish.
Meditacion Biblica (Spanish Edition)
por Carlos De Leon (Author). Desarrollo espiritual basado en el Kabbalah judeo-cristiana. La tradición mística judeocristiana • Algunos principios kabbalísticos • Los siete espíritus de Dios • Prácticas, meditaciones y oraciones. Paperback: 152 pages. Publisher: Pax-Mexico Mexico (June 30, 2008). Language: Spanish.
---
Now Available on Amazon.com and internationally
Read selections from the new book by author Robert E. Zucker, "Kabbalah's Secret Circles," examines the practices, literature and history of Jewish mysticism, Kabbalah and the Sefer Yetzirah (Book of Formation).
Discover the many lost and forgotten secrets of the Kabbalah through the words of famous Rabbi's and authors throughout history.
Follow a historical time line of Judaic mysticism and understand some of the basic principles of the Kabbalah and Cabalah.
Devise your own Kabbalah Wheel to spin the legendary 231 Gates of combinations and permutations, as described in the ancient book on Jewish mysticism– the Sepher Yetzirah.
For more information on this Kabbalah book, contact author Robert Zucker.